Volver a Noticias
Back to News
Florida Immigrant Coalition denounces DeSantis plan as 'draconian'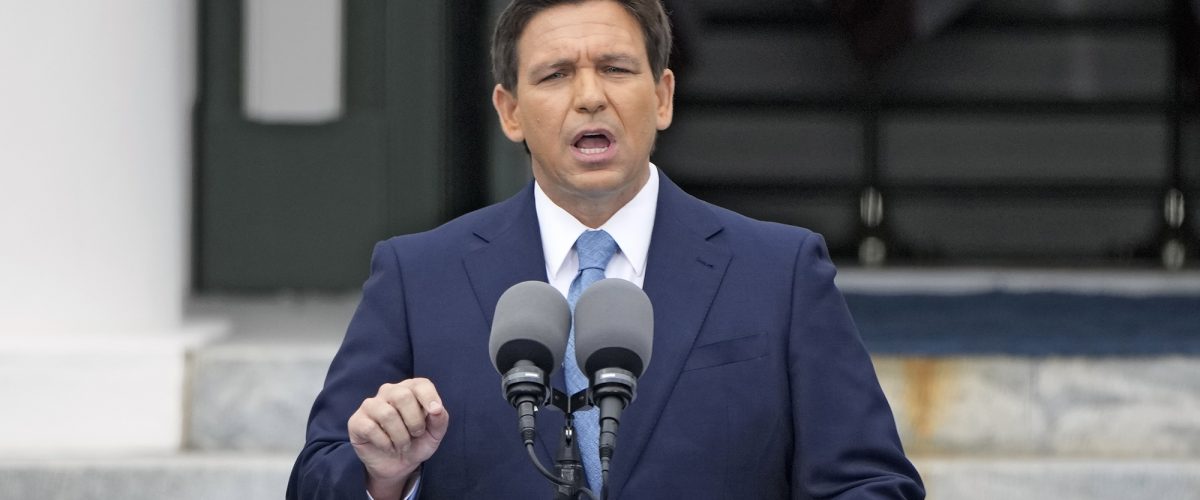 March 2, 2023
Read Time: Minutes
Immigration advocates say a new legislative proposal by Gov. Ron DeSantis could criminalize ministries, businesses, cities and individuals that serve immigrants in Florida.
"DeSantis is leading the way in turning back the clock on human rights and descending us into a truly draconian state where residents live in fear of a government who overreaches into every corner of their lives," the Florida Immigrant Coalition said in response to the governor's proposed measures, which were unveiled last month.
Coalition Director Tessa Petit criticized the looming mandates as cruel and racist.
"Gov. DeSantis and his legislature are once again using hate and heavy-handed use of government power to attack our vulnerable families, friends and neighbors," she said. "This is not just an immigrant issue. This is a morality issue. But most of all, this is a freedom issue."
According to the state's website, DeSantis proposes to increase penalties for human smuggling and document falsification, make it easier for law enforcement to incarcerate undocumented immigrants and prohibit municipalities from issuing government identification cards to migrants in the country illegally.
If codified, anyone who knowingly transports such immigrants within or to the state could face a third-degree felony punishable by up to five years in prison and a $5,000 fine — or 15 years and $10,000 if the immigrant is under 18.
"The legislation also invalidates all out-of-state licenses to unauthorized aliens, requires those registering to vote to affirm they are United States citizens and legal residents of Florida, prevents unauthorized immigrants from being admitted to practice law, and eliminates out-of-state tuition fee waivers for undocumented immigrant students. Additionally, the proposal requires hospitals to collect data on the immigration status of patients and the costs to provide care to illegal aliens and regularly report the data to the governor and legislature," the state announced.
"With this legislation, Florida is continuing to crack down on the smuggling of illegal aliens, stopping municipalities from issuing ID cards to people here illegally, and ensuring that employers are hiring American citizens or those here legally," DeSantis said.
The leaders of Florida-based immigration groups warned that DeSantis' proposal echoes policies enacted by Latin American dictatorships to suppress marginalized populations and grassroots organizations that serve them.
"Not only is Gov. DeSantis' proposed legislation targeting immigrants an affront to the diasporic communities that made Miami the global city it is today, it threatens the fabric of private and public, secular and faith-based organizations that have been serving our communities for decades," said Ana Sofía Peláez, executive director of the Miami Freedom Project.
"As a Cuban-American whose own family sought freedom and found refuge in South Florida, the proposed policies mirror the very authoritarian government we fled and have no place in a democratic system," she added.
Adelys Ferro, executive director of the Venezuelan American Caucus, said DeSantis' proposal is an attack on the positive impact immigrants have in Florida.
"We Venezuelans know what a fascist looks like, we know what an authoritarian looks like, we know what hate looks like, and now Gov. DeSantis is bringing all of those traits to our lives here in Florida."
Others slammed the proposal for its potential negative consequences on the state's economy.
"Instead of addressing the real issues facing all working families in Florida, like low wages, housing unaffordability and the rising costs of living, Ron DeSantis continues to stoke hate, undermine local governments, and criminalize our basic freedoms. His cruel and inhumane policies, if enacted by our state Legislature, would hurt our economy and our communities, and make Florida unsafe and unwelcoming for all of us," said Oscar Londoño, co-executive director of WeCount!
Florida Policy Institute CEO Sadaf Knight said one-fifth of Floridians were born outside the U.S. and those who are undocumented pay $600 million annually in state and local taxes.
"There are over 281,000 immigrants who pay tuition and fees at colleges in this state, and 36% of Florida's small businesses are immigrant-owned. Gov. DeSantis' new anti-immigrant proposal would harm our communities and our state," Knight said. "Florida should be welcoming immigrants' unique contributions, not vilifying people who call our state home."
The proposal's attack on diversity mirrors its assault on the livelihoods of Floridians, said Samuel Vilchez Santiago, Florida state director of the American Business Immigration Coalition.
"I'm surprised the governor hasn't proposed criminalizing undocumented people and those who employ them for eating, sleeping and breathing — that's how preposterously and cruelly restrictive this legislative package is," he said. "It will lead to higher food costs, retired folks not being able to access the health care they need, and our housing prices continuing to skyrocket. It is as radical as it gets."
Aurelie Colon Larrauri, Florida state policy advocate for the National Latina Institute for Reproductive Justice, said DeSantis' actions will worsen the challenges immigrants already face in obtaining medical care.
"Anti-immigrant rhetoric from those in power has a chilling effect on diverse communities by spreading a climate of fear, where the threat of detention, family separation and deportation discourages folks from seeking preventative or even life-saving care," she said. "Access to care should not depend on your migration status. Everyone should have access to quality, compassionate, and affordable health care."