Volver a Noticias
Back to News
Ron DeSantis' once-slim immigration agenda is now a focal point of his 2024 presidential bid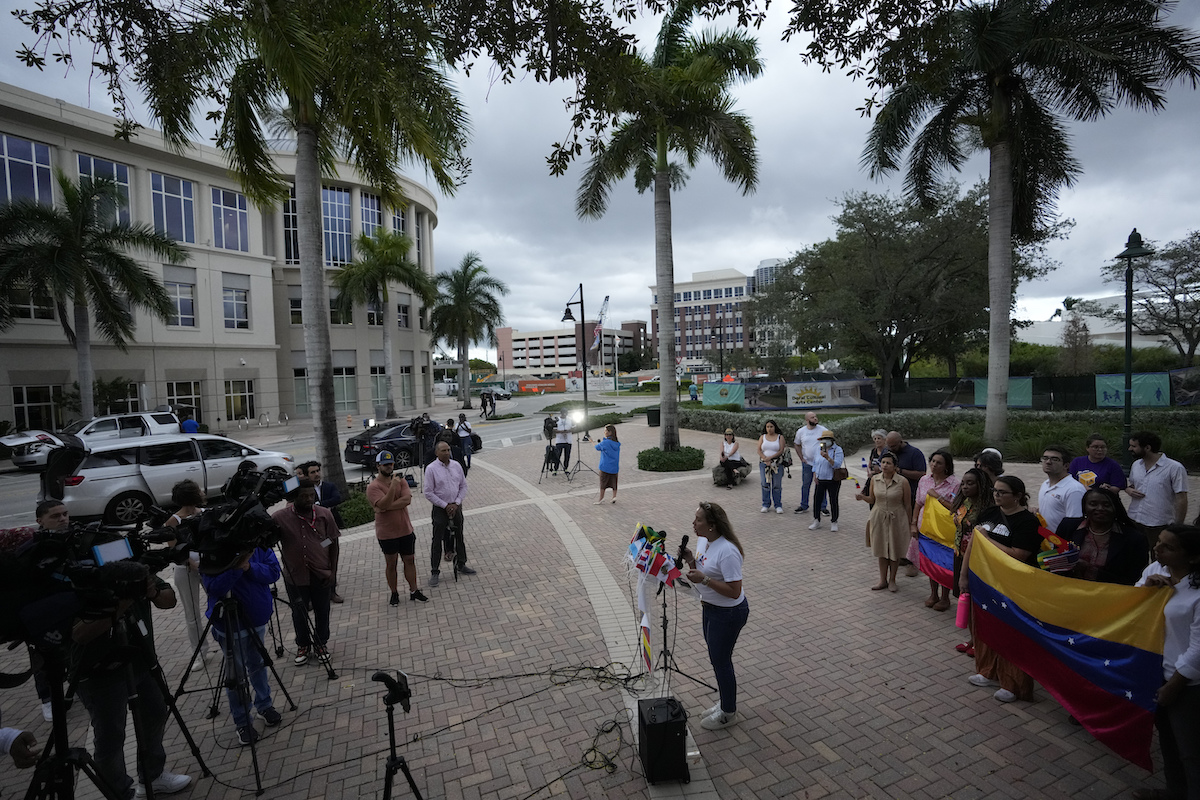 May 24, 2023
Read Time: Minutes
Florida Gov. Ron DeSantis throws markers into the audience after signing various bills during a bill signing ceremony at the Coastal Community Church at Lighthouse Point, Tuesday, May 16, 2023, in Lighthouse Point, Fla. (AP)
When Ron DeSantis ran for governor in 2018, he ran on a sparse policy platform. He didn't say much about his approach to illegal immigration. His website listed only two policy goals on immigration: enact E-Verify to ensure a legal workforce and ban "sanctuary cities."
DeSantis campaigned praising then-President Donald Trump's immigration policies — in a TV ad he cajoled his toddler daughter to "build the wall" as she stacked blocks.
DeSantis now enters the Republican presidential primary as a candidate who goes beyond Trump-like rhetoric and acts against illegal immigration.
When DeSantis signed S.B. 1718 into law May 10, he said it would give Florida "the most ambitious anti-illegal immigration laws in the country." The law includes punishments for employers who hire immigrants in the country illegally and requires hospitals to report patients' immigration data.
"The Biden Border Crisis has wreaked havoc across the United States and has put Americans in danger," DeSantis said. "In Florida, we will not stand idly by while the federal government abandons its lawful duties to protect our country."
Polls have shown that Biden is vulnerable on immigration. FiveThirtyEight, a website that analyzes polling data, found that an average of six polls taken since April 18 showed only 35% of Americans said they approved of Biden's handling of immigration.
A DeSantis spokesperson, Jeremy Redfern, told PolitiFact that DeSantis expanded his immigration agenda due to the increases in immigrant encounters at the southwest border and rising drug overdose deaths.
Immigration tends to be a key issue that sways voters.
"I don't think there is any question DeSantis has gambled on the idea that his only hope of winning the Republican nomination is try to run to the right of Donald Trump on all the major Republican political issues, be it the cultural war issues or in this case immigration," said Fernand Amandi, a Democratic pollster in Miami. "What he wants to show, unlike Trump, was (that) he was able to not only run on these positions but implement them."
DeSantis' 2018 campaign was light on immigration promises
DeSantis' predecessor, Rick Scott, notably ran on dozens of detailed promises. DeSantis' 2018 campaign stood out for being light on specific policy proposals.
That "sparseness" was "characteristic of his campaign generally," said Mac Stipanovich, a retired veteran political consultant who left the Republican party in 2018.
"All he had to do in the Republican primary was to be Trump's chosen candidate," Stipanovich said.
DeSantis beat Democrat Andrew Gillum, then-Tallahassee's mayor, in the 2018 general election.
DeSantis largely deferred to Trump on immigration, but he said Florida would cooperate with federal enforcement if he was governor.
"Florida, we are not in the immigration business," DeSantis said during a debate with Gillum.
Legislation that advanced DeSantis' campaign promises
In 2019, DeSantis signed a bill to ban "sanctuary cities," a loose term for jurisdictions that limit cooperation with federal immigration agencies. He required county jails to cooperate with federal immigration enforcement, although many already cooperated.
A year later, DeSantis signed another bill requiring public employers to use E-Verify, a federal program for employers to confirm workers' eligibility. This year, DeSantis signed a bill that extends E-Verify to private employers with 25 or more employees. Businesses face fines and license suspension if they don't comply.
Most other states that required all or most private employers to use E-Verify saw a substantial drop in their workforce of likely unauthorized immigrants, said University of North Florida economist Madeline Zavodny, who has researched the impact of E-Verify.
Associated Industries of Florida, a group that represents businesses, criticized Florida's legislation for "undue, burdensome regulations" on employers.
DeSantis' attacks on Biden immigration policies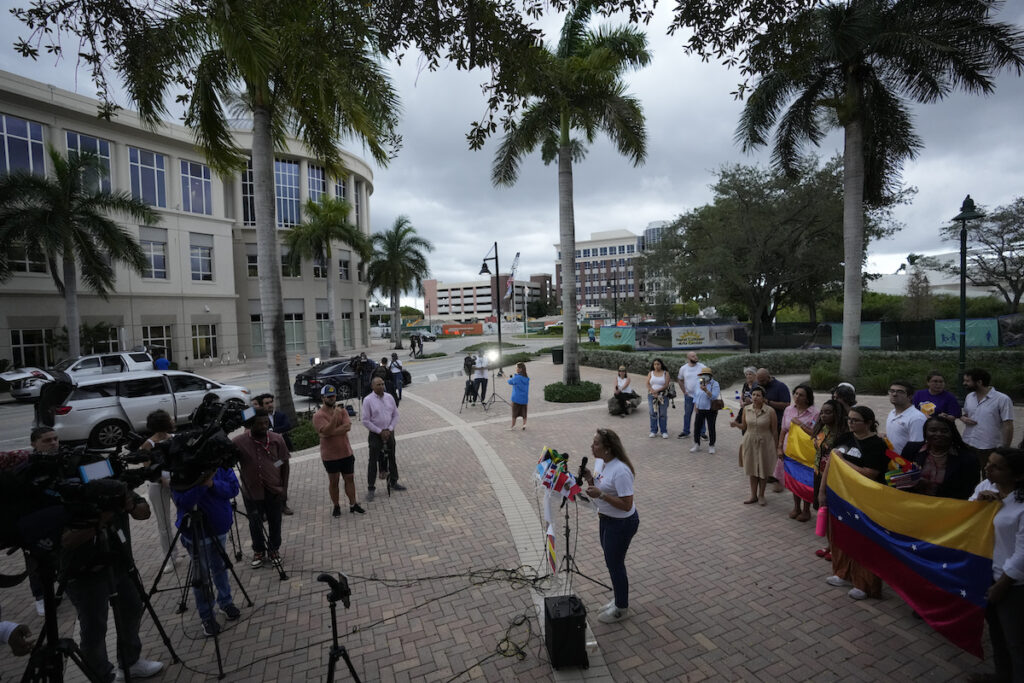 As pandemic measures receded and illegal immigration increased during Biden's tenure, DeSantis found an opening to stand out as a top Biden critic.
He said Biden was letting COVID-19 spread in the U.S. "by having a wide open southern border." But most people encountered by immigration officials were turned away​​. The COVID-19 hot spots in the U.S. were in areas with low vaccination rates, many far from the southern border.
It wasn't only rhetoric.
During summer 2021, DeSantis deployed state law enforcement to Texas to address what he called a "catastrophe at the southern border." He said people on the terrorist watch list, sex offenders and fentanyl were getting across the U.S.-Mexico border.
About a week before launching his presidential campaign, DeSantis said that he would again send Florida law enforcement officials to "aid Texas' border security crisis."
As DeSantis gave stump speeches around the country this spring, the planes he previously sent to Martha's Vineyard carrying newly arrived immigrants became a key talking point.
Last fall, DeSantis arranged charter flights to move immigrants who had just crossed the southern border out of Texas and into Martha's Vineyard, a wealthy island off the Massachusetts coast. DeSantis promoted this as a way to shift responsibility to Democratic leaders.
In an April 6 speech at a conservative Christian college in Michigan, DeSantis tried to portray Democrats as hypocritical about illegal immigration, falsely claiming that "they called out the National Guard and deported them within 24 hours." Massachusetts officials moved the people to a nearby military base on Cape Cod, but they did not remove them from the country.
DeSantis found that his immigration policies were a way he could "own the libs" and draw free national media attention, said John Feehery, a Republican strategist.
"It is a much bigger issue with the Republican base, but it is also a much bigger issue with the public at large, even in so-called sanctuary cities like New York and Chicago," Feehery said.
New York City Mayor Eric Adams, a Democrat, criticized Republican governors for sending migrants to northeast cities last year. But in April, he directed his criticism at Biden.
"The president and the White House have failed New York City on this issue," Adams said.
How DeSantis' immigration stance compares with Trump's messaging
DeSantis enters the race far behind Trump in polling, but ahead of all the other Republican candidates.
Political strategists say DeSantis' goal is to show Republican voters that he shares the same philosophy as Trump about immigration, minus the inflammatory rhetoric. In Florida, about 1 in 5 residents are immigrants, including about 772,000 who are illegally in the country.
"Part of the challenge Ron DeSantis is going to have is not necessarily out-Trumping Trump but carving out a distinct policy agenda of things he would improve upon that Trump was not able to get done," said Republican strategist John Thomas, who is supporting DeSantis.
PolitiFact rated Trump's promise to build a border wall and make Mexico pay for it as a Promise Broken. Like Trump, DeSantis favors building a southern border wall.
"With the border that big you need a physical wall, you can't just do it with personnel surveilling," DeSantis said May 10. "There are too many gaps."
DeSantis and Trump also share the philosophy that the U.S. should favor skills-based immigration.
DeSantis has called for a points system for legal immigration similar to Canada's and Australia's. Those two countries admit more than half of their immigrants based on skills or professional merit, far more than the U.S.
DeSantis said that legal immigration should be based on the needs of the U.S. — not the needs of immigrants. He has criticized "chain migration," a politicized term referring to family members following other relatives to the U.S.
He's also advocated against the diversity visa lottery, a federal system that admits people from countries with low immigration levels.
DeSantis this legislative session got support for most but not all of his immigration agenda. The Legislature did not revoke the state's 2014 law allowing in-state tuition for "Dreamers," immigrants who came to the U.S. illegally as children.