Volver a Noticias
Back to News
Venezuelans, Nicaraguans ask for protected immigration status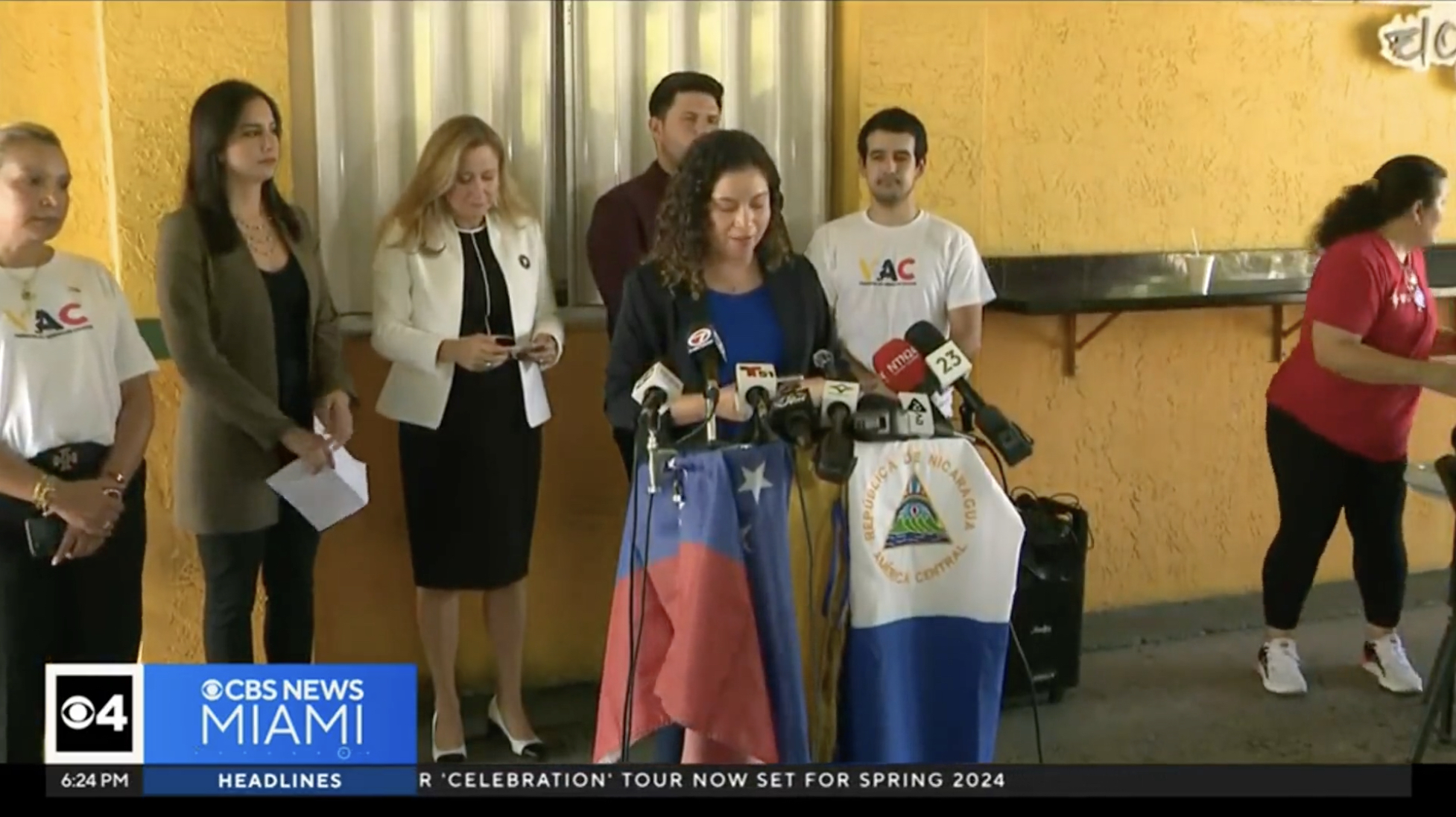 August 15, 2023
Read Time: Minutes
MIAMI – Immigration activists are asking the Biden administration to redesignate temporary protection status for Nicaraguans and Venezuelans.
"I've been living in shadow, working, paying taxes," said Bertha Sanles, a Nicaraguan native who moved to the U.S. right after Hurricane Mitch devastated part of her homeland in 1998, ever since she has been an undocumented immigrant.
"I need the T.P.S. and my story is the story of thousands of families living for decades in this country," said Sanles while sitting next to her US-born daughter on Tuesday.
T.P.S. stands for Temporary Protection Status, a program that allows migrants who come from nations devastated by natural disasters to reside legally in the United States for up to eighteen months.
Citizens from Nicaragua and Honduras who were in the U.S. in December of 1999 qualified for the program because Hurricane Mitch devastated part of these Central American nations.
Ever since, U.S. presidents, including Joe Biden, have been extending the program which is not a path to citizenship; however, it allows these immigrants to get a work permit, drive and not be deported to their homeland.
Sanles did not qualify for T.P.S. because of the time when she requested the status. She was one of the speakers at a press conference where members of the Florida Immigrant Coalition, the Venezuelan American Caucus and the American Friends Service Committee sent a message to the Biden administration.
"What we're asking for is a redesignation of TPS for Nicaragua and Venezuela so that new people can apply to this program because there are extraordinary conditions happening in these countries," said Yareliz Mendez from the Florida Immigrant Coalition.
"In March the U.N. found that there were human rights abuses that occurred in Nicaragua in 2018 and continue occurring," said Mendez.
The political and social turmoil in Venezuela and Nicaragua triggered an exodus of hundreds of thousands of migrants from both nations, many came to South Florida and that is the reason why local activists met at a Venezuelan Restaurant in Doral.
"These are countries that are still suffering from a regime, nothing has changed in the past years," said Rafael Pineyro, Vice Mayor of City of Doral, who was born and raised in Venezuela.
Activists say they fear members of these communities in Florida may be deported regardless of what happens in their homeland.
"The sad reality is that we are now being terrorized by this (Florida) governor and by this legislature," said Samuel Vilchez an immigration activist referring to SB1718, the Florida Law signed by Governor Ron DeSantis. However, DeSantis is saying the legislation was needed to fight illegal immigration in Florida.
For Bertha and her daughter Aleah, redesignation of T.P.S. means a better life, "Now I'm taking care of a little boy, I'm a nanny; I'm a housekeeper," said Sanles.
Activists say that over 500,000 Nicaraguans and Venezuelans in the U.S. could benefit with a redesignation of T.P.S., but only the Biden administration has the power to do it, so far the White House has not made a decision.